Get to Know a Passionate and Accomplished
Dog Trainer
Rick is the owner and founder of Rick's Canine Workshop. He is a Certified Professional Dog Trainer (CPDT-KA), and has over 30 years of experience teaching people and their dogs. His passion is training dogs to be wonderful companions and family members.
Rick's experience with his first dog sparked his passion.
"Getting my first dog was like a dream come true, but it wasn't without difficulty and frustration. Thankfully I found someone who could help me understand the basics of house breaking, curbing the jumping and mouthing, and teaching my new dog how to walk nicely on a leash and come rather than play a game of chase when I called him."
Today, Rick pays that experience forward. His specialty is coaching new dog owners, teaching people to understand their dog's behavior from the dog's point of view, leading to great training results and harmonious households.
Rick utilizes dog-friendly positive reinforcement techniques and is dedicated to continuing education in the field. He regularly participates in seminars spanning a wide range of canine behavior topics – including behavioral issues, aggression, and more – learning from some of the country's most prominent trainers and speakers.
Early on, Rick discovered the thrill of competitive dog sports. So inspired by the training progress he made with MacDuff, he began competing in American Kennel Club (AKC) Obedience trials.
His drive and experience has expanded over the years into virtually all types of competitive dog sports including Obedience, Rally, Conformation, and Agility.
Today, Rick enjoys coaching both aspiring and seasoned competitors to help them achieve teamwork and precision with their dogs to succeed in their competition sports.
"What makes me uniquely qualified to help pet owners and obedience competitors is how I live with my own dogs – they are companions with great manners first! This bond helps them become super reliable competition dogs."

- Rick
Rick's accomplishments with past and present dogs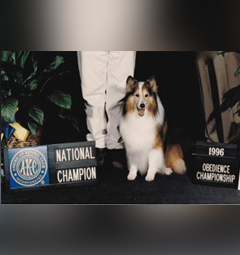 "MacDuff" (his first dog) Shetland Sheepdog, NOC OTCH Sir Malcolm MacDuff UDX 4. MacDuff and Rick started as a beginner novice team and eventually earned the prestigious designations of Obedience Trial Champion, Gaines-Cycle Super-dog, and National Obedience Champion.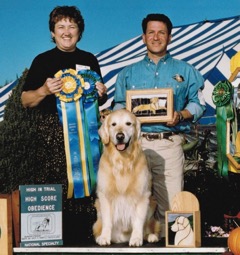 "Troy" Golden Retriever, CH OTCH Wingmaster's Ounce of Gold UDX 3, VCX, WC. Troy and Rick obtained the designation of Confirmation Champion and Obedience Trial Champion. He was the fifteenth dog in the history of Golden Retrievers to obtain both championships.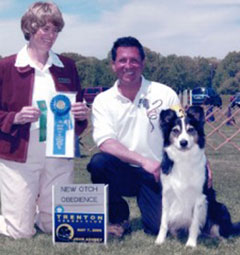 "Bob" Border Collie, OTCH Shoreland's Wild Thing UDX, RA, OA, OAJ. Rick adopted Bob from a friend who had started his competition obedience training. Bob was his first Border Collie and together they started on a different path on how to train dogs.
"Nani" Australian Shepherd, ADCH. Nani was born deaf, and was one of the few deaf dogs to earn an Agility Dog Championship with the United States Dog Agility Association (USDAA) organization. She was Rick's first dog to be trained entirely using positive reinforcement and was well known as Rick's star demo dog in his pet dog classes.
Rick's current canine partners are two Border Collies, Disco and Tom.
"Disco" UDX2, OM1, OA, OAJ, RAE is retired from a successful career in agility just shy of 2 qualifying runs to earn his Agility Dog Championship with the USDAA. Rick and Disco are currently on the final legs for his RAE in Rally. The requirement for the RAE title is that the dog must qualify ten times in both the Advanced B class and the Excellent B class at the same trial. He is an incredible dog, fast, sensitive, and fun.
"Tom" The Charmed Ones Fix it Fool UDX2, OM2. Tom is Rick's young, up and coming dog. He's extremely talented, fast and athletic. Together they are honing Tom's skills and polishing his work towards his Obedience Trial Championship (OTCH) in AKC obedience rings. Tom will be Rick's 4th Obedience Trial Championship (OTCH) and 5th Utility Dog Excellent (UDX)
Ready to learn how Rick's experience can help you and your dog succeed?