Do you love spending time training and challenging your dog?
The world of Competition Obedience and Rally is an exciting and exhilarating sport that will take your relationship and training to greater heights.
Learn how you can take your training to the next level.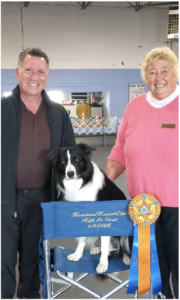 Our competition obedience programs are designed to help you achieve success. Whether you're a seasoned competitor or new to the sport – or anywhere in between.
Rick has been competing in Obedience for over 30 years and has won numerous awards and competitions. He is passionate about teaching and sharing his experience and knowledge.
Offering private training as well as group classes.
Seasoned competitors who want to improve performance, accuracy, and scores.
Have you been competing in AKC Obedience and feel you would like a different approach or fresh eyes on your team? Learn how to improve precision and accuracy with the use of games, motivation, and positive techniques.
Our priority will be to focus on how your dog feels about the training.
If a dog is happy, confident and understands the exercises fully, he will excel in the ring.
New to competition
Are you new to the world of Competition Obedience and Rally? Rick knows what it is like to be the new kid on the block! He can help you start your training the right way and create skills and habits (for both you and your dog) to help you succeed in all your competition endeavors.
We recommend that all training teams begin with a private evaluation.
Rick can help you and your dog by developing an individual plan for your team.
He'll also make recommendations as to whether private sessions or group classes (or a combination) are the best option to help you achieve your goals.
KF

His positive training methods work well with my Northern Breed dogs, often considered difficult to train. Obedience training has allowed me to bond with my dogs who have become valued members of my family.
R.Zuckerman

Rick trains both dog and handler to work as a team using positive reinforcement not adverse techniques to achieve success. He taught me how to read my dog and set him up for success as well as understanding in simple terms various aspects of the dog sport world.
Group Classes for Competition
AKC Competition Obedience Classes

Group competition classes are great for training in a more realistic environment that includes distractions and different locations, all of which are critical to competition performance.
Rick strategically sets up an environment that helps your dog learn to focus on you and navigate a successful performance in the ring.

Small classes provide lots of individual attention while at the same time providing great practice training your dog in preparation for competition.

Learn from the best person who is passionate about teaching and sharing his experience and knowledge. Rick uses only the most up to date training methods based on positive reinforcement.

Competition Obedience classes are geared toward preparing an individual team for American Kennel Club titles. All breeds welcome, including mixed breeds.

Pre-Novice through Utility classes available.

Pre-Novice Novice: Monday 6:00
Utility: Monday 7:00
Open: Monday 8:00

$230 for 8 weeks of class.

Classes meet Mondays at Holbrook Canine Form & Function, 780 Broadway Ave, Holbrook, NY

Note: All new students must be evaluated with a private lesson in order to enroll in existing classes. Please contact me to schedule your lesson!
Private Training for Competition

Rick is one of the nation's foremost trainers in AKC Obedience. He offers private lessons to individuals just starting their obedience training and those who have already been competing in competition obedience.

Private training is a great option if you'd like one-on-one instruction and practice. Rick can help you:
• Improve precision and accuracy
• Develop games to improve focus
• Improve motivation and attitude
• Find new and different R+ techniques
• Improve communication in your team
• Reduce ring stress and anxiety
• Develop an individual approach to your own dog's needs and style
Whether you need help teaching new behaviors the right way, or troubleshooting issues that have developed in your training, Rick can help by creating training plans that work for your unique team.

Single sessions available. Ring rental fee may also apply.